A new and exclusive capsule, sold in just 100 boutiques in the world... Inzerillo Bouyique is proud to be one of them.
This new capsule takes us back to the electrifying atmosphere of the 90s. That time when tennis was experiencing an unprecedented new era. Its players were not only athletes, but VIPs followed and admired as artists and rock stars. Sportswear lef the court and became chic, colonising the coolest neighborhoods around the world; from Tribeca in New York to Chelsea in London.
These were the years of Andre Agassi and his rebellious and so recognizable spirit; but also the years of Lady D, always under the gaze of the paparazzi who followed her photographing her rebellious looks for a princess, but which testify to her class and glamor.
THE CAPSULE COLLECTION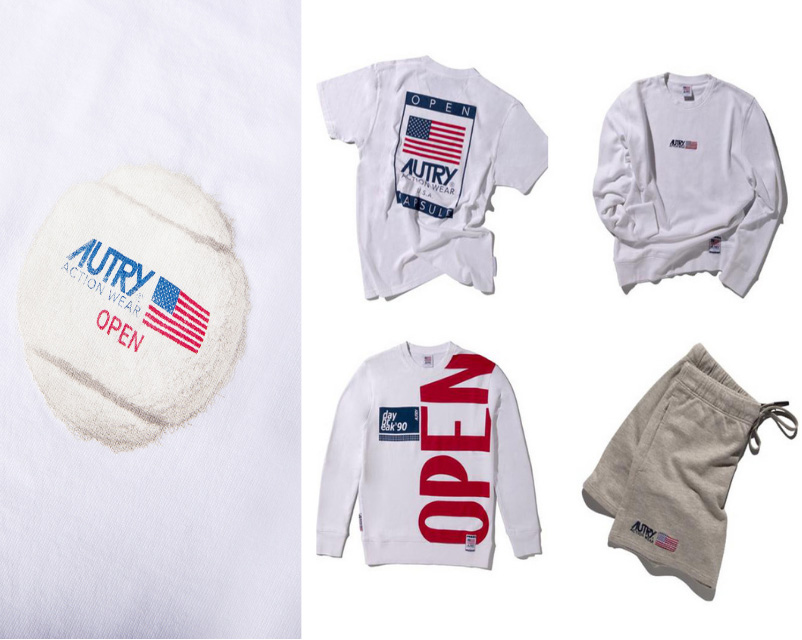 In this segng Autry presents the first clothing capsule: Open.
Sweatshirts, t-shirts and shorts are presented with a mix of logos and American flags that rediscover the heritage of the brand.
The chromatic choice is strong and precise. Red and blue graphics alternate on a white background. The colors are those of the American flag. Autry is Dallas, Texas, USA.
The entire clothing collection is completely Made in Italy. The t-shirts are made of 100% cotton jersey, with contamination free yarn. The construction of the sweatshirts, presented in white and grey marl, is inspired by classic vintage sweatshirts. It is 92% co;on and 8% nylon and is also made of contamina,on free yarns. The coach jackets lining is made of 100% cotton jersey and outer fabric is ripstop nylon. Thanks to specific treatments, the fabrics acquire a particularly clean appearance and a very soft hand, thus enhancing the richness of the raw material. The graphics are made with water prints to make the surfaces sof and comfortable. The fits are inspired by the 90s with contextualized and updated volumes. The collection is completed by socks in two colors and Autry's first middle sneaker exclusively for the Open capsule.
A LIMITED EDITION SNEAKER


The limited edition Open sneaker is inspired by the 90s and it is Autry's first middle sneaker. It is built with a mix of materials: washed goat, suede and technical fabric. The logos are printed on the tongue and on the inner sole. The Autry tag is instead made with a micro-injection technique to create a three-dimensional effect to the logo. The look has an heritage flavour and is extremely special about each detail.
You can't miss this limited edition, visit our website!
CHECK OUT OUR SUGGESTIONS